Hero Fibre is live in Kroonstad!
Herotel is proud to provide Kroonstad with Fibre internet, a game-changing technology that reliably delivers a great online experience with consistent internet speeds of up to 200Mbps. Our world-class technology and local support staff will ensure the most stable internet to our customers. To get connected, simply search for your home or business address on our fibre search page.
Our 50Mbps product is well suited for most homes and small businesses. It will allow you to stream your favourite HD movies and series, support up to 4-6 connected devices or users at any one time, do some online gaming and generally cater for your digital lifestyle. For connecting more users or devices, multiplayer gaming or extensive use of cloud-based services you should consider our 75Mbps, 100Mbps or 200Mbps services. Choose what you think will best suit your needs and if you find that you need a little bit more or a little bit less, we'll gladly adjust your speed for you. No strings attached. There are no upfront fees or contracts, but if you decide to leave within 12-months we will claim back the installation cost from you. You'll also get a free-to-use router to allow you to connect to our fibre via Wi-Fi.
We're painting South Africa orange with our growing network! You will be happy to hear that we already operate out of over 46 local offices throughout South Africa.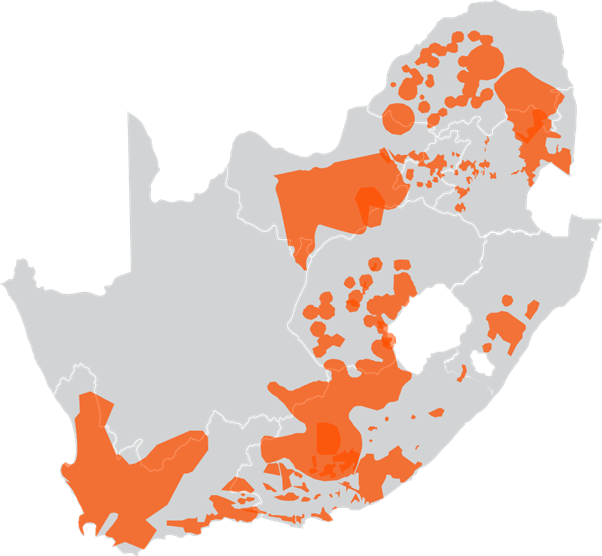 We take pride in the fact that we build the network ourselves and look after it from our local offices. There are no middlemen, who serve no purpose except to add costs to your bill. That way, we ensure that you get the best quality network, pay some of the lowest prices in South Africa and get the best possible service. Great Internet shouldn't cost an arm and a leg!
We know you have many questions, so we have captured some of the most commonly asked questions below for your perusal.
Q: Who is Herotel?
Herotel began its journey in 2014 by consolidating 33 independent internet companies that covered more than 500 small towns across South Africa. These companies united around a common cause, a burning desire to bring world-class Internet to small towns and rural areas. Today, we have already built fibre to more than 100 000 homes and connect thousands more through our wireless internet products.
Q: How do I know if I have coverage?
That's easy! Simply enter your address into our coverage checker on our homepage. You will be asked to complete your details if fibre is available on your address.
Q: How long does it take before my service is installed?
We work speedily to connect you to our speedy internet service.
Q: How far will my WiFi signal reach?
A typical WiFi signal has a range of around 30 metres. This can be reduced due to factors such as the modem/router's ability, walls or other obstacles. 
Q: What is the difference between 5G and fibre? 
They are very different technologies in how they connect you to the internet. 5G uses radio waves for sending and receiving data, which means that it is being broadcast over a distance and then received by radios. Fibre uses light to transmit data through fibre optic cables, which means that the connectivity stays within the cable and cannot transmit or broadcast outside of it. In short, fibre directly plugs you into the internet while 5G creates a broadcast zone that you connect to over the radio spectrum.
Q: How do I reach Herotel for more information about my nearest branch and pricing?
Please contact the team here for further information.